No Phone System?  No Problem!
Add On Hold Audio Capability To Any Phone
With A Music On Hold Adapter


Few things can kill a customer's image of a company more quickly than being put on hold in dead silence. And if you don't have a phone system, then you most likely don't have an on hold message and music recording.
Fortunately, not having a phone system is no longer a problem.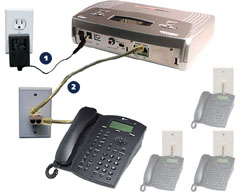 The On Hold Plus 6500 music on hold adapter allows you to play on hold message and music recordings on any phone – even your home phone! Imagine that. Sounding like a Fortune 500 company while working out of your basement or small office.
The OHP 6500 on hold adapter works with true hold-button activation. Don't be fooled by cheap imitators that require you to push "star" or the "flash" button to place callers on hold. The OnHoldPlus 6500 features advanced technology that allows you to use your hold button as if you were connected to an expensive phone system.
The On Hold Plus 6500 adapter comes pre-loaded with your new on hold message and music recording and plays it for your callers from its internal memory.  That means no moving parts, so you won't spend your time checking your CD player to make sure it's still running.  The OHP 6500 never stops playing your on hold program and we support it with a three-year warranty. Now any business, regardless of size, can sound like a corporate giant, and connecting the Hold Plus 6500 adapter to your phones is as simple as hooking up an answering machine.  It can be done with GO On Hold and it is surprisingly affordable.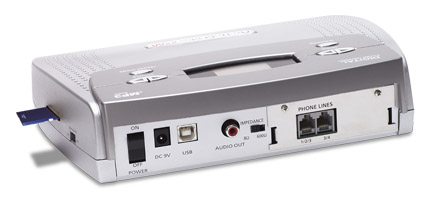 How Does It Work?
In the past, only businesses with a PBX or KEY phone system could have an on hold music and message recording. Not anymore! The on hold plus 6500 music on hold adapter has an integrated analog adapter module which allows any and all of your phones to provide on hold audio content to ordinary analog and "KSU-Less" phone systems.
Currently, when a caller is placed on hold with an ordinary phone, that call is routed back to your phone company. And there it sits. You know the rest – that important caller to your business is forced to suffer in silence, wondering if they are still connected.
With the OHP 6500 music on hold adapter, the call is intercepted. Instead of silence, your caller on hold hears your commercials on hold that is activated by pressing the telephone hold button on any extension in your office. The On Hold Plus 6500 music on hold adapter supports up to four incoming lines and provides audio messaging solutions on up to 50 phone extensions.




Questions?


or Call 1-800-963-6968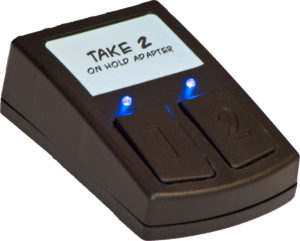 Home Office Music On Hold Adapter
For small businesses with only one or two phone lines, the Take-2 message-on-hold adapter allows you to place up to two callers on-hold. Any audio device, such as an mp3 player, CD player or computer, can can be connected to this music on hold adapter to keep callers entertained and informed of your products or services.
The Take-2 system is specifically designed for the SOHO (Small Office Home Office) environment where up to two lines on a single phone are supported and this unit can be used with any phone, even a cordless phone.
Placing a caller on hold is simple; just press the appropriate line button on the adapter and the caller is instantly placed on hold. The handset then can be placed back on the cradle or another line can be accessed. While the caller is on hold a blue LED light above the line number on the adapter will glow.
The Take-2 comes with all the necessary audio and telephone cables to allow the system to be easily connected. The modern design and added functionality make this a great addition to any office phone.

Features:
RCA input for MOH device
Modular connections
Place up to 2 callers on-hold
Large easy-to-push buttons
Blue LED status indicators
Durable high-impact plastic case
All cables included
5-year parts and labor warranty
Only $49.99

Questions?


or Call 1-800-963-6968